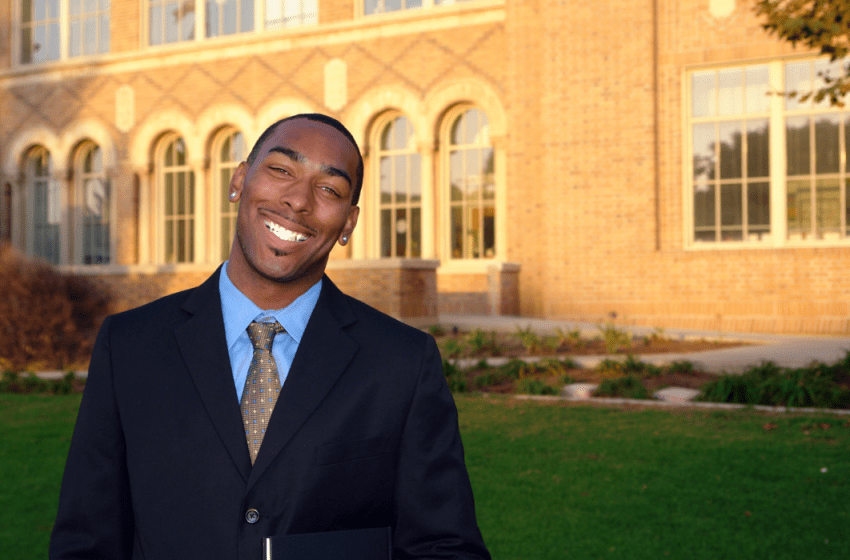 Learning Communities: A Safety Net to Improve Academic, College, and Career Outcomes for Black Males
Erik M. Hines, Ph.D. and Edward C. Fletcher Jr., Ph.D.
Far too often, the narrative around Black males in the P-16 educational pipeline has been from a deficit oriented perspective. Specifically, when it comes to academic, college, and career preparation, it is a bleak outlook due to barriers and obstacles associated with the career and life outcomes of Black males. Although information is available through research literature and practice, the conversation is rarely highlighted about what is working to improve the academic and career trajectories of Black males. Moreover, we must combat the anti-Black racism that contributes to Black males being adultified and treated as less than human. Therefore, we will highlight how a P-16 learning community approach can be a safety net in supporting Black males. In the following paragraphs, we discuss our experiences and findings of research and work with Black males through a career academy model and a residential learning community focused on college retention and graduation. We see the aforementioned programs serving as learning communities for Black males. Lastly, we will conclude with recommendations for supporting Black males from high school to postsecondary completion through a learning community approach.
Career Academies as Learning Communities
At the high school level, career academies have emerged as a vehicle in helping create STEM career pathways for Black male students. These high school career academies provide students with opportunities to explore STEM related (e.g., Engineering, Information Technology) interests through a career-themed curricula that bridges STEM content with college preparatory and accelerated coursework. Thus, career academies have been identified as meeting the college and career readiness needs of Black male students. To that end, the career academy model can help open doors for Black male high school students in their pursuit of pursuing STEM majors at colleges and universities.
One of the signature features of career academies is its focus on small learning communities that provide Black males with an increased level of interpersonal supports. In many ways, the career academy model operates as a college/university. Students are placed in cohorts where they participate in the same classes with a set of their peers with similar career interests (like a major in college), and are taught by a set of core academic and career-themed teachers. This small learning community enables students to be emotionally engaged in their schools and creates a positive culture of supports from a variety of school stakeholders (e.g., peers, school counselors, teachers, business/industry and postsecondary partners). Studies have demonstrated that Black males benefit from participation in career academies as it promotes hands-on learning, a sense of community and belonging, and meaningful engagement in school (which oftentimes students see as void of relevancy). Academy students also report feelings of safety, less experiences with bullying, and beliefs that they can be themselves.
We also know that career academies with increased wraparound supports for Black male students from economically disadvantaged backgrounds promote higher levels of student engagement. These supports come in the form of academic, health, social-emotional, and community/family engagement. Schools have fostered relationships with their local community in the form of advisory boards to offer students food, clothing, health and mental health support, and GED and job opportunities for families. It is essential to understand that wraparound services help to meet the basic needs of students so that they can focus and engage in their academics. It is also important that these supports are viewed from a healing centered mindset rather than a deficit perspective.
Postsecondary Learning Communities
At institutions of higher education (i.e., universities, vocational schools, etc.), a learning community for Black males can serve as a space for acclimating to the institution, assistance with connecting them to important stakeholders across campus, teaching soft skills to be successful in course work and in to their future career(s), and to receive guidance and mentorship from another Black male or an individual who is culturally responsive leading the initiative. Learning communities help Black men transition to and thrive within the institution in a way that provides a safety net while helping them manage the responsibilities of being autonomous and independent. In other words, the learning community can help Black men understand their purpose of being at the institution while providing them with the resources to be successful. Research has shown that learning communities improve the retention and graduation rates for Black males, especially when students are given the right support.
Some of these resources include academic supplements such as tutoring with heavy emphasis on introductory math and science courses, navigating the politics of postsecondary institutions, and knowing where and how to utilize campus resources (e.g., the office of financial aid, university counseling center, and career center). Moreover, young men can receive career development in their first and second year to help them identify a major they are committed to as to decrease the amount of time to the baccalaureate degree which in turn translates into financial benefits such as saving money. Also, access to campus faculty for creating relationships will help Black males be comfortable with interacting with them as well as giving them the comfort level to advocate for themselves. In my (Hines) experience, some young men may not speak up for themselves when needed due to power dynamics or not knowing how to communicate with their professor. Emphatically, this is where the faculty director can teach skills in communication and advocacy. Further, Black men can build bonds to produce a brotherhood that can transcend their time in college. These young men can discuss shared experiences in being Black, male, and students and provide social and cultural capital for each other to successfully navigate their college careers.
Although the cliche of attending a postsecondary institution is, "where you go to find yourself", we would argue these young men never lost themselves, but are in a space to discover how to build and expand upon the gifts and talents they already possess and merge it with purpose and a major/career. Therefore, we offer several recommendations to fostering a safety net for Black boys and men centering excellence, greatness, and purpose through a learning community approach:
Build confidence in Black males by promoting academic achievement; therefore the focus should be obtaining resources for Black males to be successful in their courses at both the P-12 and postsecondary levels. Specifically, provide intensive academic support in the subjects of Math and Science since they are gateway courses for STEM majors.
Engage students in STEM related coursework in high school coupled with accelerated programs (e.g., AP, dual enrollment) will help to prepare them for majoring in STEM in colleges and universities as well as benefit them financially by lessening the costs of studying at the postsecondary education level.
Exposure to male mentors who are professionals and have access to career and internship opportunities to provide social and economic capital to Black males.
School counselors and faculty with counseling backgrounds are in great positions to lead learning communities as they can provide intrusive counseling and utilize skills to elicit information from Black male students to create a plan of action for their success.
Develop partnerships with the school counselor, social worker or university counseling center to ensure Black males get the mental health services needed as stress and trauma can impact the mental and physical well being as well as their academics.
Provide wraparound services for Black male students from economically disadvantaged backgrounds. Ensure that schools have academic, health, social-emotional, and community/family engagement. District and school administrators can form relationships with their local community to offer students food, clothing, health and mental health support, and GED and job opportunities for families.
Create advisory boards within high schools to seek engagement and supports from business and industry, postsecondary education, and various community members. These critical stakeholders can provide a wealth of resources for students, including funding, guest speaking, work-based learning activities, and other social and cultural capital supports. Utilize advisory boards to provide targeted and tailored supports (e.g., academic supports with ACT/SAT, clubs/student/professional organizations, mentoring programs) for Black males in particular.
Create small learning communities in high school by putting students in cohorts with other learners who share career interests. Ensure that scheduling allows students to participate in the same classes throughout their high school experience, and that they have the same set of teachers (both core academic and career-themed) during their schooling.
Use data to advocate for the rationale of developing a learning community as well as the resources needed for it to thrive.
Create opportunities for Black males to engage in culturally relevant study abroad programs for global educational experiences.
Create opportunities for exposure to graduate school, professional school (e.g., law, medical, etc.) as well as advanced training that broaden pathways to senior leadership positions and increase the number of Black males that are traditionally underrepresented in the aforementioned spaces.
The narrative of the learning community must be strengths-based and asset focus rather than a deficit approach.
Learning communities for Black males can be a space where they can develop their brilliance and greatness through academic preparation, professional development, leadership skills, engaging in undergraduate research opportunities, internships, apprenticeships, and career opportunities. Learning communities can be as formal as a career academy or as informal as a group of Black males being led by faculty members or school personnel. The faculty director's role is to cultivate these young men by maximizing their potential and creating the safety net where they can be their authentic selves and know that the ethic of care is present at their respective institutions. Finally, we have provided references to guide individuals who are interested in this work.
Google folder with relevant articles
References
Cintron, D., Hines, E.M., Singleton, II, P., & Golden, M.N. (2020). Improving retention and gpas of Black males at pwi: An LLC approach. Journal of African American Males in Education, 11(1), 37-57.
Fletcher, E., & Cox, E. (2012). Exploring the meaning African American students ascribe to their participation in high school career academies and the challenges they experience. The High School Journal, 96(1), 4-19. Retrieved February 23, 2021, from http://www.jstor.org/stable/23275421
Fletcher, E, Dumford, A.D., Hernandez-Gantes, V.M. & Minar, N. (2020) Examining the engagement of career academy and comprehensive high school students in the United States, The Journal of Educational Research, 113(4), 247-261, DOI: 10.1080/00220671.2020.1787314
Fletcher, E., Warren, N. & Hernandez-Gantes, V.M. (2019) The high school academy as a laboratory of equity, inclusion, and safety, Computer Science Education, 29(4), 382-406, DOI: 10.1080/08993408.2019.1616457
Hines, E.M., Harris, P.C., Mayes, R.D., & Moore, III, J.L. (2020). I think of college as setting a good foundation for my future: Black males navigating the college decision making process. Journal for Multicultural Education, 14(2) 129-147. https://doi.org/10.1108/JME-09-2019-0064
Hines, E.M., Hines, M. R., Moore, J.L. III., Steen, S, Singleton, II, P., Cintron, D., Traverso, K,Golden, M. N., Wathen, B., & Henderson, J.A. (2020). Preparing African American males for college: A group counseling approach. The Journal for Specialists in Group Work, 45(2), 129-145. https://doi.org/10.1080/01933922.2020.1740846.
Edward C. Fletcher Jr., Ph.D. is an Education and Human Ecology (EHE) Distinguished Associate Professor of Workforce Development and Education in the College of Education and Human Ecology at The Ohio State University. He serves as Senior Faculty Fellow for the Center on Education and Training for Employment and Co-Editor for the Journal of Career and Technical Education. Dr. Fletcher has over 70 publications and obtained over $4.5 million in federal funding. His research focuses on the role of career academies in promoting student engagement as well as college and career readiness, particularly for diverse learners. Dr. Fletcher's email address is fletcher.158@osu.edu.
Erik M. Hines, Ph.D. is an associate professor in the Department of Educational Psychology and Learning Systems at the Florida State University as well as the coordinator of the Counselor Education Program and School Counseling Track. Dr. Hines prepares graduate students to be professional school counselors. Dr. Hines's research agenda centers around: (a) college and career readiness for African American males; (b) parental involvement and its impact on academic achievement for students of color; and (c) improving and increasing postsecondary opportunities for first generation, low-income, and students of color (particularly African American males). Additionally, his research interests include career exploration in the fields of Science, Technology, Engineering, and Mathematics (STEM) for students of color. Dr. Hines has secured research funding to study the college readiness and persistence of African American males to improve their academic and career outcomes. Further, Dr. Hines has worked on several grants aimed at increasing awareness of STEM careers for students of color and rural students. He has over 30 publications and secured over $6,000,000.00 in extramural and internal funding. His research has appeared in peer-reviewed journals, such as the Journal of Counseling and Development, Professional School Counseling, The High School Journal, and Urban Education. Dr. Hines's email address is emhines@fsu.edu.