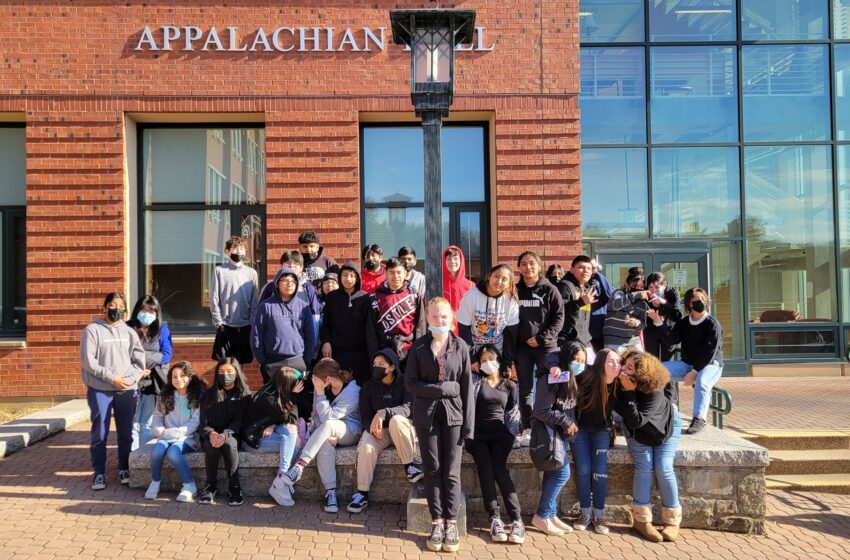 Campus Visits as Predictors of Postsecondary Enrollment: Implementation and Lessons Learned
Introduction
In 2014, College Access Partnerships at Appalachian State University (AppState) launched a 7-year grant program, Appalachian GEAR UP, aimed at increasing the number of students who are prepared to enter and succeed in postsecondary education. We knew from the start that exposure to college campuses was a critical step in students' development of a college-going mindset, so we made sure to include a strategic focus on college campus visits in the services for our students. We aimed to explore which types of visits and when those visits are most impactful for students' postsecondary enrollment. We wanted to understand:
If college campus visits are associated with postsecondary enrollment?

Which types

are most associated with postsecondary enrollment?

When

do they matter most throughout a student's education journey?
The GEAR UP Program
Appalachian GEAR UP (Gaining Early Awareness and Readiness for Undergraduate Programs) is a federally funded grant program administered by the U.S. Department of Education's Office of Postsecondary Education. Nationally GEAR UP serves over 572,000 students across 43 states with bi-partisan, bi-cameral support in Congress. AppState serves over 30,000 of those students through three GEAR UP grants focused on rural, high need schools in the mountain region of North Carolina. Starting in 6th grade, students are exposed to a variety of educational opportunities to enhance their college-going mindset. Though Appalachian GEAR UP's programming model provides a plethora of services including but not limited to campus visits, counseling/advising, tutoring, and financial aid counseling.
When the Appalachian GEAR UP grant was written, one of the key performance indicators focused specifically on college campus visits. Our goal was for 90% of GEAR UP students to attend at least two college campus visits by the time they completed 10th grade. This was to ensure students were being afforded campus visit opportunities throughout middle and high school. Over seven years, we achieved that goal, and even surpassed it, reaching above the 95% mark.
Campus Visit Implementation
The nature of the GEAR UP program, which is built on a foundation of partnerships among school districts and higher education institutions, allowed our GEAR UP district partners easy access to dedicated staff at the most frequently attended institutions in their region, to support the implementation of campus visits. 
For example, Burke County Schools, one of the largest GEAR UP districts, plans a visit to AppState for all 8th graders every year. These visits are scheduled for each of the five Burke Middle Schools and typically include an informal campus tour and special academic presentations by faculty from various departments. Though the groups can range in size anywhere from 100-250, we have learned over time that achieving an engaging experience is challenging for groups larger than 100. Therefore, most recently we have limited the groups to a max of 100, requiring up to 10 trips in order to serve all 8th graders in Burke County GEAR UP. Anyone working in schools knows this is a challenging task. Field trip request forms, central office approval, scheduling activity buses and drivers, collecting parent permission forms, and many other tasks have to be completed just to get students out the door and on their way to a campus. This emphasizes the importance of having support on the college campuses to organize, coordinate, and lead the implementation of an engaging and eye-opening experience for students. 
In addition to grade level campus visits, high school students in Burke County are able to attend College Bus Tours to a wide variety of institutions. These tours are marketed to students as either a day trip or overnight trip with the goal of hitting 2-4 different college campuses in one tour. Based on the campuses included, students sign up to attend the tours that most interest them according to type of college and/or degree programs. And because College Bus Tours are often scheduled at campuses outside of the GEAR UP partnership institutions, which don't have dedicated staff to serve groups like ours, these types of campus tours are most often coordinated through the office of admissions.
Research Design and Findings
Appalachian GEAR UP is structured such that certain grade levels within a school are eligible to receive services, and those students continue to receive services as they advance to the next grade level, resulting in a cohort-sequential design. This study used only Cohort 1, our oldest group of GEAR UP students, as the sample, which is the graduating class of 2020. Starting as 7th graders in GEAR UP (n = 2,274) in the 2014-2015 academic year, these students received what we categorized as two types of  college visit services through GEAR UP: Traditional Campus Visits and Educational Campus Field Trips.
Visit Type

Definition

Example

Traditional Campus Visit

Typically hosted by the admissions office is small groups and focused on recruitment to that specific institution.

Standard admissions tour.

Educational Campus Field Trips

Typically hosted by offices outside of admissions such as pre-college programs, college access support programs, academic departments, etc. Often linked to course standards and are educational in nature. May include a walking tour but not for the purpose of recruitment to that specific institution.

Cultural events

STEM Expo

Engineering Day

Hands-on Workshops with Faculty
Our findings suggest that:
Both types of visits have a role in encouraging postsecondary enrollment.

Traditional Campus Visits, whether taken early or late in a student's academic career, have a statistically significant association with higher postsecondary enrollment rates.

Educational Campus Field Trips, when taken early in a student's academic career, have a statistically significant association with higher postsecondary enrollment rate.

A student's first campus visit is critically important when taken in the middle grades, as opposed to students taking their first campus visit in high school, which did not have a statistically significant association with a higher postsecondary enrollment rate.

Other demographic factors, such as gender, are associated with different postsecondary enrollment rates.
Based upon our findings, middle schools promoting exposure to college campuses should be encouraged, even for events that are not directly related to postsecondary enrollment.
Perspectives From a GEAR UP Parent
Amanda Whittington, the parent of one of our GEAR UP students, describes her experience:
My daughter is an Appalachian GEAR UP student and has been since the beginning of her 6th grade year in 2015. Her father and I have always promoted postsecondary education and tried to surround her with college going culture. Yet, she never felt that she was capable of going to college, as academics were an area where she struggled. No matter how much we encouraged her, she instantly felt defeated. We were at a loss of how else to engage her and hoped that as she grew, she would change her mind. Well, during the fall semester of her 6th grade year, she attended her first college campus tour with a group of her friends. Her whole perspective changed! As soon as she came home after that tour, she informed us that she was so excited to attend college – and, in fact, she wanted to attend 5 different ones. She is now a high school senior, graduating in May 2022, with a full ride to her top pick institution. We could not be more proud! And we could not be more thankful to the GEAR UP program who helped shape our daughter's future.
Future Work
Areas for future work involve incorporating more cohort groups into the study of postsecondary enrollment. Such incorporation allows for the impact of campus visits on postsecondary enrollment to be studied for multiple cohort groups.  Also, as our cohort groups continue in postsecondary education and earn degrees, additional outcome measures such as retention, persistence, and time to degree completion can be studied as well.
Lessons Learned
One of the most important take-aways from our work with planning, implementing, and studying thousands of student campus visits is an identified need for increased staffing capacity at higher education institutions to host more of these types of visits. It is not uncommon for our GEAR UP district staff to reach out to a college campus to request a visit, and be turned away or offered a less engaging self-guided tour as a consolation. While we have not explored the impact of self-guided tours on postsecondary enrollment, we do not have high expectations of significance, though this could be an opportunity for further research as well. 
Similarly, ensuring all students attend multiple college campus visits throughout their educational journeys can be very burdensome and challenging for school staff to pull off without additional funding and staffing resources to support it. One example of a successful approach has been when schools encourage teachers to think differently about field trips. Oftentimes, field trips are taking place in areas nearby to college campuses. In this case, we highly encourage teachers to consider adding on a stop to a college campus, and even better, coordinating it across the curriculum. 
Taking your 6th graders to the science museum where they're hosting a special exhibit on engineering? Why not take a quick tour and then introduce your students to some faculty at the nearby engineering school so they can hear all about the careers available to them with an engineering degree? Career exploration, college exposure, postsecondary aspiration development, and curriculum alignment all in one field trip! 
The full manuscript can be downloaded here: https://scholarworks.wmich.edu/jca/vol7/iss1/10/