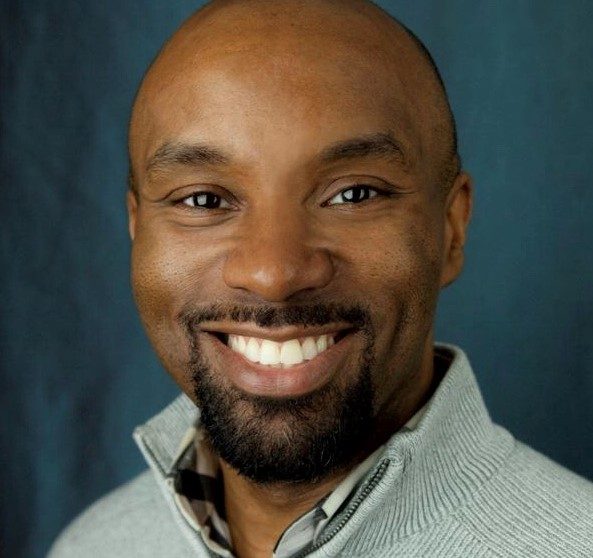 #SDSUSCFellows- John Johnson
Interview with John Johnson
Director of Postsecondary & Alumni Affairs
What inspired you to want to become a school counselor?
I grew up in a small city on the other side of Michigan called Muskegon Heights. I remember going through the process of trying to decide what I wanted to do with my life. Pretty much everybody in my community worked in a factory. My parents, aunts, uncles, everybody worked in a factory, but I knew that is not what I wanted to do. I remember just trying to figure that out for myself. My guidance counselor was good but she just seemed overwhelmed, I understand she was trying to service over 500 students and give them each individual time. To make a long story short I really wanted to be for students what I wanted for myself. I want to be someone who can support them and help them achieve their specific goals. I also want to show them that there are a variety of opportunities available to them. Detroit is a very industrial city with the big three autos here, because of this it seems that our students have this ideology that this is the line of work they have to go into. I really try to encourage students to achieve whatever dream and aspirations they have and provide them direction and support in navigating the system so that they can achieve those goals.
What is the biggest challenge you faced in your own educational journey?
My biggest challenge was being able to say I need help. In high school things came easy for me. When I got to college I had this mindset that I don't need help and can just navigate through it myself. Then in my first writing class we had an assignment where I felt I could knock this out. I remember getting a big fat F and the teacher made a comment that I should go to the writing center. I felt that I didn't have to go to the writing center, but rather it was just one bad assignment. She then assigned another assignment, and I got a D with a comment saying, "come see me after class". I saw her after class, and she told me she could tell I have potential, but I needed help bringing out that potential. She walked me over to the writing center and I got the help I needed. This was one of the best things that ever happened to me because it allowed me to start asking people for help and start accepting help. I realized I was being bullheaded thinking I could handle everything without assistance. Now I tell my students that I struggled academically both in math and in writing my first year like Michigan State. I started in a remedial math class and thought, "oh this is going to be a breeze". I struggled in that remedial math class and I was shocked. My brother was in his senior year of Michigan State and he told me to go to the math help room. I went because I had already learned this lesson from my teacher who took me to the writing center. Receiving help and support worked for my writing and math.
What is one thing you would tell your younger student self now?
One, don't be afraid to ask for and accept help. I think that's really important. A lot of times, especially for African American families and African American students, growing up we hear: be strong, be a man, handle yourself, be an adult, you have to handle it on your own, and all those sorts of things. That was something that was embedded in me that I had to overcome. I had to learn to be able to say "I need help" and then accept the constructive feedback that came with it.
Two, I would tell students to explore their career options. I am now a counselor and working in education, which has been extremely rewarding for me, but going into college I would've never considered this as a career. It never occurred to me that maybe I could work in education in some capacity. So, explore careers and don't wait until you get to your senior year to do that exploration. Start that as soon as possible and continue to try new things right. Also allow yourself to evolve and continue to find yourself. Various good things come from exploration of new things, careers and opportunities flourish from it.
If you could go back and visit your elementary, middle, and or high school counselor, what would you tell them?
I got into Michigan State and was extremely happy as it was one of my top schools. My eldest brother had gone to Michigan State, and he was the first in our family to go to college and I had loved the campus. I had tried going to my counselor for support and help in navigating through the process. I remember one time she said, "Have you considered going right into the workforce? There is this new company that's coming into town and they're going to be hiring, paying like $10 an hour. That might be a great fit for you." Now I don't know how she meant it, but I took it as if she didn't believe that I could go to Michigan State and be successful. After that I had the feeling that maybe I'm not good enough for Michigan State and instead I should consider another option, such as going straight to work. I thought that maybe she saw something in me that maybe I didn't, and I wasn't ready for Michigan State. Looking back on that moment, the thing I would tell her is to invest emotionally and strategically within your students. Emotionally, by telling them that they can do it and that they can achieve what they put their mind to. Then strategically by showing them how they can do it. In my case, possibly connecting me to other students who were at Michigan State or connecting me to various professionals so that I could see people from my community who went to college and were successful. While there is nothing wrong with working at a factory, I knew it wasn't for me. I try to apply that to my own students. I try to be available to them because of that. When it comes to their dreams, we plan on how they can get there. I've never told them no but rather that Mr. Johnson is going to help you achieve that dream. It may not be the path they envisioned, perhaps they will have to start off with community college or start at a smaller school and then transfer, but we are going to have a plan of action.
If you could give one piece of advice to higher ed professionals, what would you want them to know?
You can't educate all students in the same way. One of the things that I've noticed over the last several years working at both the collegiate level as well as at the high school level is that the way we prepare our students for college and expectations once they get to college is very narrow and doesn't necessarily meet the needs of first generation, low income, and minority students. This is depending on what school you go to, some schools have done well and have resources and additional services, but some schools have not. You can see which is which by looking at the graduation numbers for those populations. Also, with the pandemic, consider what your students' level of learning is after having a year online. There is a gap there that has happened, and it is especially exaggerated for students that come from special populations and special backgrounds. I think there's going to be a level of trauma once they hit their college campuses. I think there is going to need to be some type of learning curve that helps integrate students into college. I would say consider all those things when you're dealing with the next two to three incoming classes, not just this current class. All of these students went through that pandemic as well. Find ways to invest into students and do the research so that we have the data to properly support these students.
Tell us about your advocacy project.
I created a scholarship for my students. One of the things that I often encounter with our students, who as I said before, come from working class backgrounds or low-income backgrounds, is that every summer I would get a call from a student saying they don't have enough money for food or even to get to college. I used to reach into my own pocket and call colleagues to help support the student's financial needs. Whenever I reached out on behalf of students' people would respond right away. I wondered why I didn't just create a scholarship. It started off as one scholarship that I started with my Michigan State University alumni friends. I suggested we each pitch in $20 and I had this whole speech of how we have to give back to our community but didn't have the chance to say it because they all agreed and offered up $100 instead. It all went by so smoothly I thought to myself whether I could do another. I'm also a part of a leadership council and came with my pitch, again they offered more than I asked. Again, it worked, and I figured let me try one more time. We were able to come up with some leftover funding and provide a Senior Mastery scholarship to three students who pretty much mastered the process. All in all, seven students got a scholarship. I really enjoyed doing it and what I took from it is to be confident in what you're doing and realizing that there are people who really do want to help students outside of the people who exist in our schools. There are people outside of our school who are willing to invest in our students. I've already met with the committees of each of the different scholarships and we're talking about expanding and offering more money next year.
Is there anything you would like to address that I haven't asked?
Even though it was a hard year, some good things came out of it for me. I was awarded the Educator of the Year Award by Coleman A. Young foundation which is really cool. I was really excited to find out that I was nominated by one of my students. I also received a promotion at work. I am now the Director of Postsecondary and Alumni Affairs. I will be overseeing all of the college coordinators and high school counselors in our district which is a total of 10 schools. I'm looking forward to it because I think it's an opportunity to advocate and support more students, as well as be able to work with alumni and create support and resources for them.